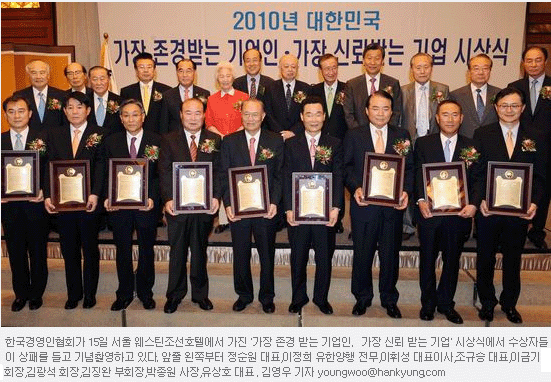 Korea CEO Association (President Ko Byeong woo) on the 15th of this year's most highly respected entrepreneurs' vice president of Samsung Heavy Industries Co. and Kwang Charmzone Kim Jing wan the President, Reinsurance Reinsurance President Park Jong won, chairman of Lee Kum kee, and all participants were selected Foodis. GS Construction and Yuhan Samchully Hwacheon Machinery Works Korea Investment & Securities Industry and 'the most trusted companies' voted for. Anniversary this year, shot an 8 'most respected company' event for the Knowledge Economy sponsored by the Chamber of Commerce and the Korea Economic Daily, etc., today held a ceremony at the Westin Chosun Hotel in Seoul.

◆ most respected company

Kim Jing wan Vice President in charge of business coming in the last 10 years was 4 trillion won in sales by 13 trillion Boosting. Have a sense of purpose and passion to challenge the one who came to hear the assessment. The industry's first 'floating dock' dry process utilizing offshore development and introduction of robot-based production automation has led to development of the domestic shipbuilding industry.
Chairman Kwang warrantee for 20 years and accumulated know-how to operate a pharmacy in 1984, the airport on the industry jumped on board Charmzone duty free shops, department stores, etc. to compete with the world's leading cosmetics company raised. 'I know Try samples are called ' Shocking ads come as the result of quality management.
President Park Jong won the last five consecutive terms beginning in June for financial success is a professional manager. 1998 Asian financial crisis in the aftermath of a serious financial crisis in Asia hit by transforming the company No. 1, captured the world's 13th largest reinsurance grew.
Lee Kum kee, Chairman of the working period of 26 years more than half the delegates spent ILDONG. In 1998 to guarantee its affiliates Maekseunjeonja ILDONG workout program stood when I entered the business through innovation, was its ability to graduate in 3 years. Also acquired in 1996 Nanyang Industry (now Foodis all participants) to domestic infant formula industry in the short term 'big three' has grown into.

◆ most trusted companies
Samchully (NYSE Jeong Sun won), the domestic gas market, accounting for 17.3 percent of the top companies in a small cogeneration, CNG filling projects, including solar power plant with green energy companies is growing. 55 years since its establishment in 1955 is marching straight surpluses.
Founded in 1926, Yuhan Corporation (NYSE Kim Yun seop), an ulcer drug, 'Leviathan Neck' Agencies such as the New Testament has been at the forefront of developing better drugs
GS Engineering & Construction (President Heo Myeong su) site-based management to the Board of Directors and transparent management practices is a clear example. Especially with partners, representatives and employees through ongoing mentoring activities and forums to form a partnership has worked. Korea Investment & Securities Co. (NYSE Yu Sang ho) and 118 domestic branches and overseas, including China, Vietnam and six corporations has grown into a global comprehensive brokerage. Samsung Life IPO (IPO) in charge of representing the listing successful organizers and, last March launched 'I'M YOU' the customer's current and future asset management services are.
Hwacheon Machinery Works Industrial (NYSE Cho Kyoo seung) country representative with a 60-year-old machine tool company CEO pay of the field, without restructuring the company, customers and invited the public through the production process, transparency, trust management has taken.